Lindisfarne Hartlepool,
Masefield Rd, Hartlepool
TS25 4JR
01429 244020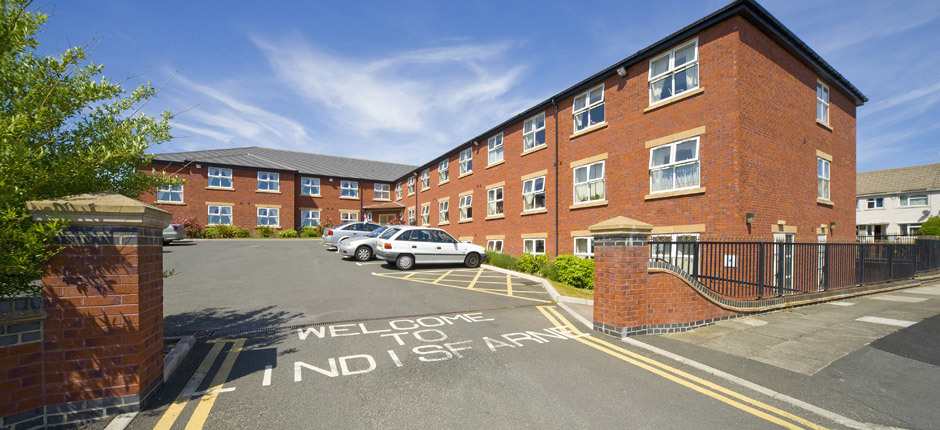 Facilities at Lindisfarne Hartlepool
54 en-suite bedrooms
Beauty and hair salon
Daily activities and outing programmes
Dining/ bistro with varied daily menu choice
Full laundry service
Landscape gardens with seating area
Television lounges
Lindisfarne Hartlepool is a purpose-built care home that specialises in the care of those suffering from Dementia. Each of the home's 54 rooms offers ensuite facilities and a television point, telephone connection and modern furniture.
Residents are also welcome to personalise their room to suit their individual taste.
The home is located close to all local amenities, including shops, bus routes, parks, the theatre and Hartlepool beach. The home is tastefully decorated and has all of the modern facilities you'd expect from a large care home.
The team at Lindisfarne Hartlepool are fully trained in caring for those with Dementia and work to ensure that all residents' requirements and needs are met. The home also has an activities co-ordinator who runs a full programme of events including daily activities and day trips.
In addition to our Senior Carers, there is a full team of support staff and domestic staff who ensure the home is well run, homely and clean. An on-site catering team provide all types of dietary needs.
If you'd like further information about Lindisfarne Hartlepool please contact us 01429 244020.
Contact Details
Lindisfarne Hartlepool,
Masefield Rd, Hartlepool
TS25 4JR
Tel:
01429 244020