Posted 7th March 2017
As you can see from our news letter below our residents at Newton Aycliffe have had an activity filled few weeks. Animal visits have proved to be particularly popular with our residents as they have had visits from 'Snails n Trail's' and 'Discovery Zoo'. We are also looking forward to the better weather as we have a brand new minibus ready for summer outings. Welcome to my first Newsletter. My name is Jan and I have been here since December as the Activities Co-ordinator.My first responsibility was to organise a raffle and tombola for Christmas. Belated thanks for all the donations and all who bought tickets. The money raised helped towards the Christmas parties and entertainment.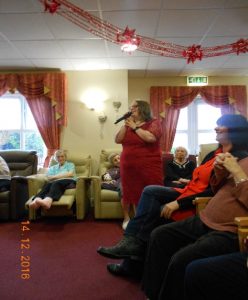 Residents enjoyed an afternoon of entertainment put on by the staff, who dressed in various costumes for a sing-a-long.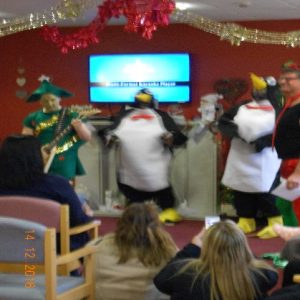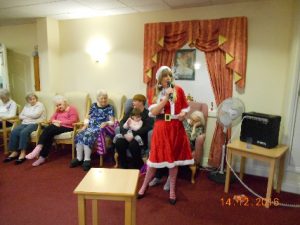 We also had a visit from 'Snails & Tails'. The residents seemed to thoroughly enjoy holding the various animals.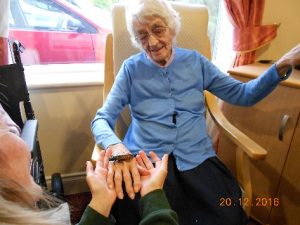 We are looking forward to the weather picking up so we can go out and about in our new minibus. Especially now we have the wheelchair access fitted.The build up to Easter will see us attending the Excel Church for their Reach Out Event and St Clare's Church will be coming here for a communion service with residents.  We will be making Easter Bonnets for this occasion. Fund Raising As usual we are always trying to find different ways to raise funds for entertainers and outings, so any ideas, we are open to offers. Future events are to include an Easter Fayre and Easter Egg Raffle, so any donations towards these would be gratefully accepted. Forthcoming Events Saturday 6th May – we are holding a charity night at the Sports Club on Moore Lane. There will be an auction, karaoke, disco and food!  More details will follow.  The last event of this nature was extremely successful. We have had some changes of staff recently. Heather the nurse retired in January. John who is a nurse, has joined us.  Please make him welcome. We have also had 3 new babies born to staff members this year: Lauren had Archie on 1st January Andy Bell had Sophie on 1st March Kayleigh had Nova-Reign on 6th March.